Equitable Flying

About Us
What We're About
Fleet
Our Current Aircraft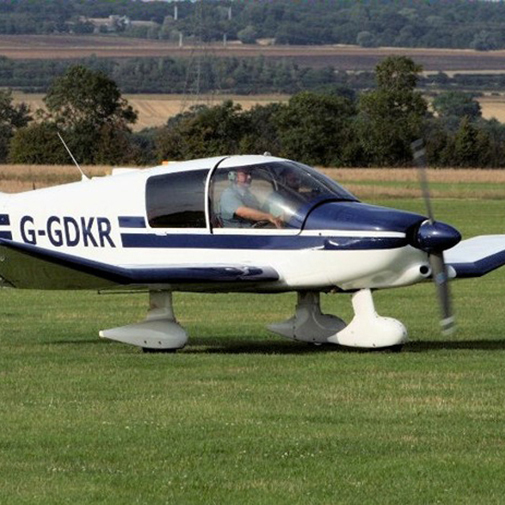 G-GDKR Robin DR400
The Robin DR400 is a great looking 4-seater aeroplane with fabric on a wood frame construction and powered by a 160hp Lycoming engine with a fixed pitch propeller.
It cruises at 120kt with a duration of 3 hours plus reserve - an ideal touring machine.. KR has a comms radio along with a Honeywell Skymap GPS and a mode C transponder.
It has a comfortable cabin with great visibility and is a real treat to fly Members flying this aeroplane will be covered under the SEP rating and will just need a flight with our check pilot.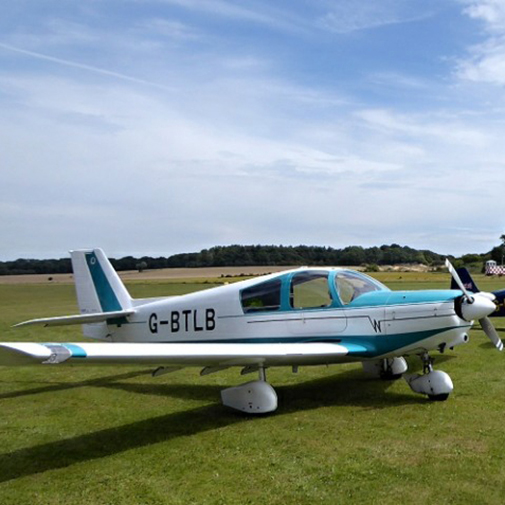 G-BTLB Wassmer WA52
Our Wassmer is one of only three on the UK register. It's an attractive looking low wing 4-seater of composite construction. It is powered by a 160hp Lycoming engine fitted with a variable pitch propeller. It cruises at 120kt and has a duration of 3 hours plus reserve - an ideal touring machine. As well as a comms radio it has a VOR receiver with RNAV and a mode S transponder. The cabin had a refit in 2013.
Members will need differences training to cover the use of the VP prop as part of getting checked out.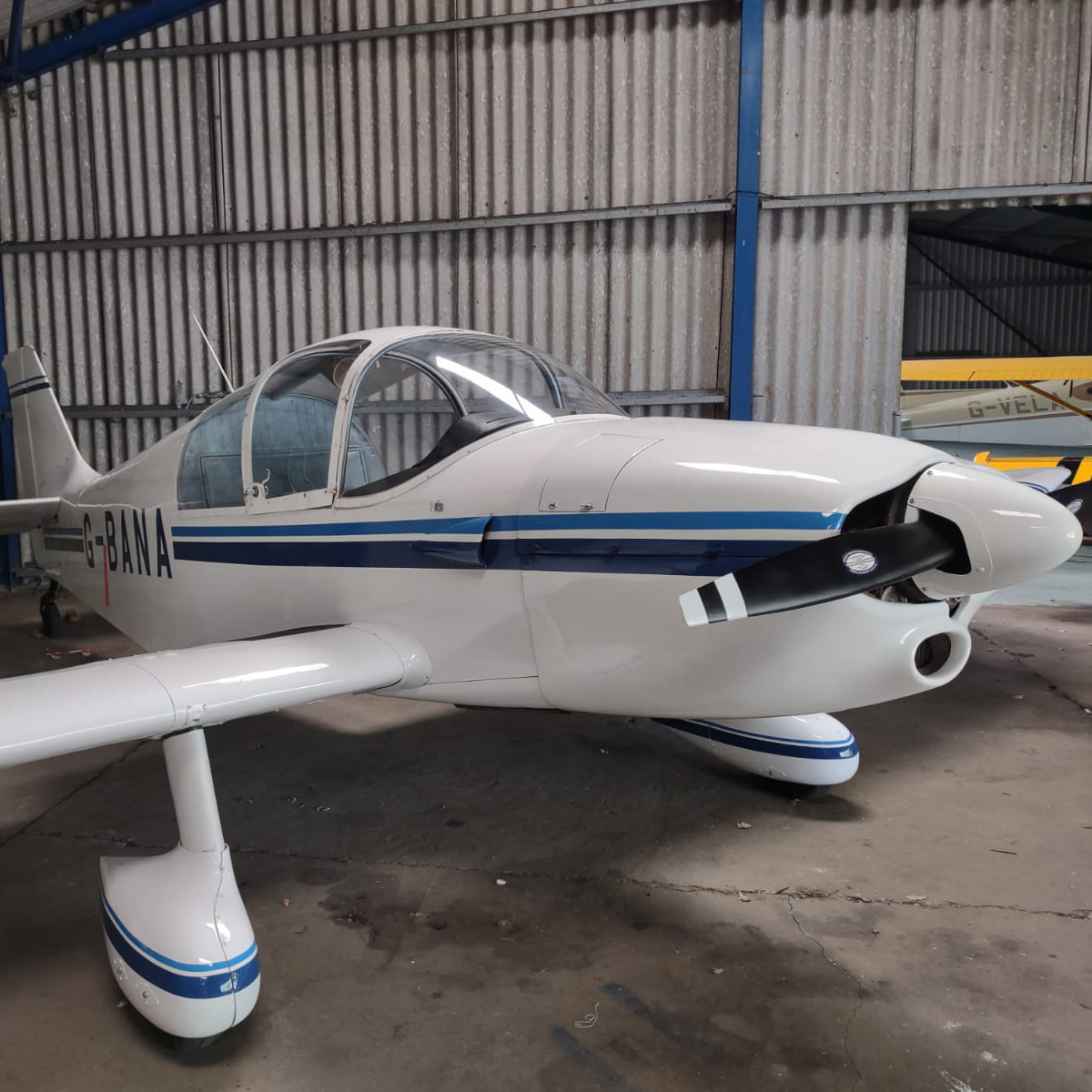 G-BANA Robin DR221
Our newest arrival in the Summer of 2023 is a 2+2 seater taildragger, powered by a 108hp Lycoming engine, and which shares a similar construction to KR. NA is an excellent addition with its 90kt cruise and it has VOR and ADF navigation capability
This smaller 2-seat aircraft complements our 4-seaters and as a taildragger provides an extra challenge for both new and experienced pilots.
Members wishing to fly this aeroplane will need to have completed differences training elsewhere to cover tailwheel aeroplanes before getting checked out.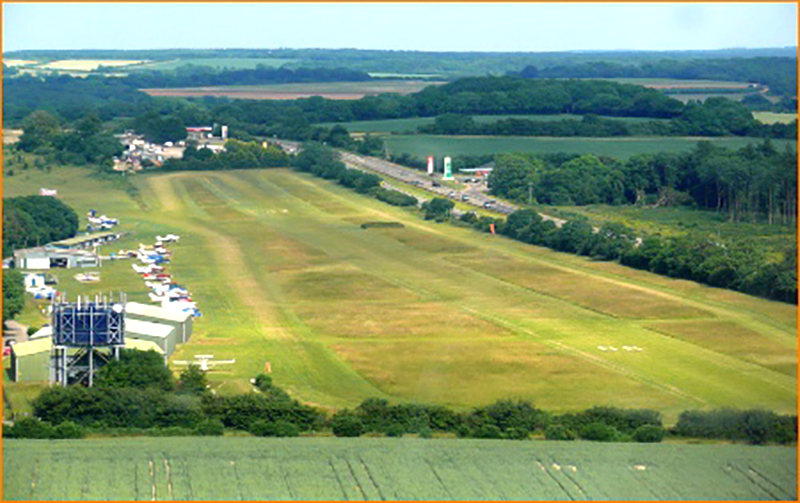 Popham Airfield
When new members join Hampshire Flying Group they must also join the Spitfire Flying Club which manages Popham Airfield.

The benefits are:

No landing fees
Free use of all of the facilities at Popham, including the cafe/restaurant
A pilot briefing and planning room equipped with a computer to access weather information and NOTAMs
Free entry to the many events that are held on the Airfield
Members also get a 10% discount on food bought in the cafe
EGHP Popham
N511138 W0011407
550ft (20hPa)
Popham Website
To find out more about Popham
F.A.Q
Frequently Asked Questions
How do I join?

To join the Hampshire Flying Group, you simply buy a share in the Gruop. The share covers all three aircraft and you'll get checked out on any that you wish to fly.

New members can buy into the Group providing shares are available, or buy a share from a member looking to sell. In all cases prospective members have an initial meeting at the airfield with a few of the members, and then the wider group membership conducts a brief interview during one of the monthly meetings to ensure we suit your needs (and vice-versa).

What experience must I have?

We do not impose a minimum hour requirement. Every qualified pilot is welcome, from seasoned ATPL holders to the new PPL.

Check flights will be conducted before you fly. We operate a 90 day recency rule on all aircraft.

To fly tailwheel or variable pitch prop, you must alreeady have the appropriate qualification. We do not carry out Differences Training on our aircraft.

How much does it cost to join?

The share costs £2,000 which is yours to sell as and when you require. In addition to the share price there is a non-refundable £250 joining fee. There is also a monthly subscription of £85.

Prices correct March 2023

What are the flying prices?

The hourly flying costs depend on what aircraft you fly. The hourly rates are:
- Robin: £110
- Wassmer: £110
- Emeraude: £90 - but currently being sold

This is a wet rate (includes fuel and oil), and is regularly kept under review in line with prevailing fuel prices.

Prices correct March 2023

How big is the Group?

The Group aims to maintain a membership of 35 pilots. Members range in their active use of the aircraft, with each aircraft usually flying around 100-150 hours each per year.

Group Structure

The Group has three permanent committee members, a chairman, a treasurer and a secretary.

In addition each aircraft has a minder, their role being to get problems fixed, arrange servicing, co-ordinate technical matters, maintaining logbooks and so on.

We are fortunate to have several CRIs in the Group, who can carry out biennial refresher training for SEP rating revalidation.

Engagement

Regular meetings are held at Popham Airfield, usually the first Sunday of each month, and are dual-hosted in person and by video conferencing. Once a year we have an AGM when a committee is elected to take responsibility for day-to-day matters. Traditionally we do a hangar clean as a group in August each year.

Members help with running the Group and individual members will undertake particular tasks or roles as needed, like research on new topics or equipment or searching for new aircraft.

Members also connect via Hampshire Flying Group's WhatsApp (or email for those disinclined).
Gallery
What It Looks Like
A random selection of our past and current flying adventures
Contact Us
Find Us or Get in Touch
Location:
EGHP Popham N511138 W0011407
Popham Airfield, Coxford Down, Winchester, SO21 3BD